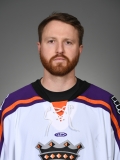 + Enlarge
31
Pat Nagle (G)
Fort Wayne Komets
| | |
| --- | --- |
| Name: | Pat Nagle |
| Number: | 31 |
| Position: | G |
| Shoots: | L |
| | |
| --- | --- |
| Height: | 6-2 |
| Weight: | 195 |
| Birthdate: | 1987-09-21 |
| Birth place: | Bloomfield, MI |
Biography
Profile: 2006-07-- Made the NAHL All-Rookie First Team and was named the NAHL Rookie of the Year after registering a 2.28 goals-against average and 24-8-4 record in 36 games with the St. Louis Bandits. Also named to the NAHL second All-Star Team.
2007-08-- Made his college debut with Ferris State in the CCHA.
2010-11-- Earned spots on the CCHA First All-Star Team and NCAA (West) First All-American Team in his fourth and final year with Ferris State.
2011-12-- Made his pro debut appearing in 39 games with Florida in the ECHL posting a 2.87 goals-against average and 20-14-3 record. Appeared in six playoff games with the Everblades registering a 1.42 goals-against average and posting two shutouts en route to the ECHL Kelly Cup Championship.
2013-14-- Spent the season with Idaho and ranked 12th in the ECHL with a 2.73 goals-against average and 23-14-4 record in 43 games.
2014-15-- Agreed to terms and added to Fort Wayne preseason roster 7/21/14. Opened the season with a four-game win streak and posted his first shutout of the season, third career, 11/12/14 at Kalamazoo 4-0 (18 saves). Logged AHL stints with Rochester, Grand Rapids and Utica during the season. Completed the regular season ranked eighth in the ECHL with 2.48 GAA. Named the Komets' Unsung Hero for 2014-15.
2015-16-- Participated in San Antonio's training camp. Called up to Stockton AHL 11/24/15. Returned to Fort Wayne 11/28/15. Called up to Grand Rapids 12/9/15. Released from PTO and returned to Fort Wayne 12/10/15. Named Goaltender of the Week for 12/28/15-1/3/16. Had a string of 25 straight successful penalty kills in a period of 10 games (12/13/15-1/8/16). Named ECHL Goaltender of the Week for Feb. 1-7. Reached a career season high 25 wins while snagging his fourth shutout of the season 3/17/16 at Evansville 4-0 (25 saves). Reached a career season high of 44 appearances 3/18/16 vs Quad City. Logged his fifth shutout of the season, sixth Fort Wayne career and 10th as a pro (counting playoffs) 3/23/16 vs Wheeling, 1-0 win OT (33 saves. Registered his seventh shutout of the year, second of the playoffs and fourth career playoff shutout 4/27/16 vs Cincinnati 2-0 (33 saves). Finished with career season highs of 51 games, 28 wins and 2.36 goals-against average.
2016-17-- Re-signed with Fort Wayne 7/5/16 for 2016-17, his sixth pro season.
Fort Wayne totals entering 2016-17: 84gp, 51-19-10, 4907 min, 6 shutouts, 197 ga, 2.41 gaa, .912 spct.
Regular Season Stats
Season
Team
GP
GA
Mins
Saves
GAA
SV%
W
L
T
OTL
SOL
SO
2015-16 Regular Season
Fort Wayne Komets
51
117
2969
1265
2.36
0.915
28
12
0
7
1
5
2014-15 Regular Season
Fort Wayne Komets
33
80
1938
776
2.48
0.907
23
7
0
1
1
1
2013-14 Regular Season
Idaho Steelheads
43
115
2530
1279
2.73
0.918
23
14
0
2
2
1
2012-13 Regular Season
Florida Everblades
31
85
1688
797
3.02
0.904
14
9
0
0
3
0
2011-12 Regular Season
Florida Everblades
39
107
2233
1016
2.87
0.905
20
14
0
0
3
1
Playoff Stats
Season
Team
GP
GA
Mins
Saves
GAA
SV%
W
L
T
OTL
SOL
SO
2016 Playoffs
Fort Wayne Komets
16
39
986
374
2.37
0.906
9
3
0
3
0
2
2015 Playoffs
Fort Wayne Komets
5
12
334
126
2.15
0.913
3
2
0
0
0
0
2014 Playoffs
Idaho Steelheads
3
9
159
87
3.40
0.906
1
1
0
0
0
0
2012 Playoffs
Florida Everblades
6
8
338
128
1.42
0.941
4
1
0
0
0
0